Goldsmith´s works
Forging is one of the oldest elements of gold works. However we use more than a chipless processing method to refine your jewelry. This includes to mount multiple jewelry through soldering of single parts. After casting a blank or using another usable processing method in our house, the blank gets processed by our goldsmiths. To realize the desired result a wide range of processing techniques are applied. The final shape will be given by deforming techniques like bending, drawing or polishing and trimming of your jewelry after casting.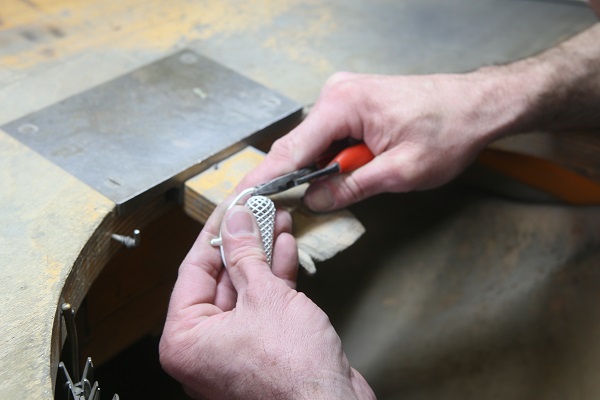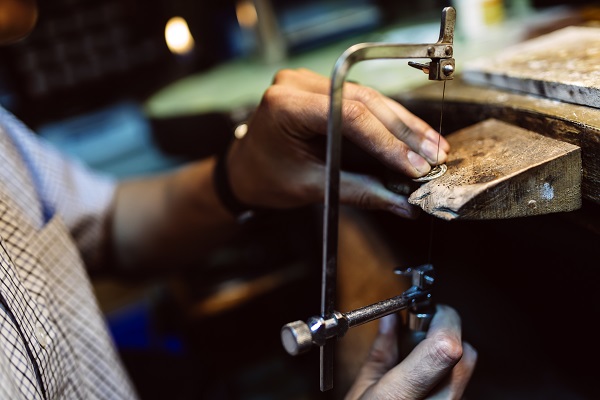 Furthermore we us processing methods like soldering or riveting giving a stable support to your jewelry. Machining the blank through these methods, the item gets grinded and polished as last step of the modeling. The whole forging process will be performed and supervised by ourselves.
The company Hans-Jürgen Reich of the jewelry industry in Pforzheim offers everything from a single source. From the construction with CAD, casting and goldsmith´s work like trimming, soldering and deburring or grinding, setting of stones, laser works, final surface treatments like polishing, matting, sandblasting or galvanic finishing like gold, silver , ruthenium or rhodium- plating up to repairs, our service covers everything about the topic jewelry. With the CAD construction we create a 3D model of your jewel hence can generate a detailed view for you. By means of the CAD model we manufacture your jewelry. With the CAD Model of your jewel a casting model will be manufactured to cast in series production. Afterwards the casting parts will be refined. We deburr, grind, trim and solder your jewelry, set stones and shapes of any kind, conduct laser works and final surface treatment like polishing and matting. We do galvanic refinement like gold, silver, ruthenium or rhodium plating as well as repairs. As a pure service provider we offer everything from a single source.
---